Desert Hearts (1985)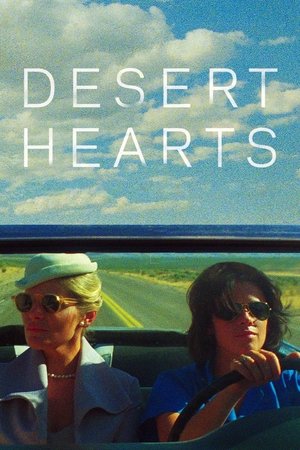 Desert Hearts
Overview
The story of straight-edge literature professor Vivian who travels to Reno to get away from a relationship breakup when she falls in love with an attractive and unconventional girl named Cay.
Cast

Helen Shaver

Patricia Charbonneau

Audra Lindley

Andra Akers

Dean Butler

Gwen Welles
James Staley
Alex McArthur
Denise Crosby
Antony Ponzini
Jeffrey Tambor
Donna Deitch
Crew
Robert Elswit
Donna Deitch
Donna Deitch
Rosemary Brandenburg
It is 1950s Nevada, and Professor Vivian Bell arrives to get a divorce. She's unsatisfied with her marriage, and feels out of place at the ranch she stays on, she finds herself increasingly drawn to Cay Rivers, an open and self-assured lesbian, and the ranchowner's daughter. The emotions released by their developing intimacy, and Vivian's insecurities about her feelings towards Cay, are played out against a backdrop of rocky landscapes and country and western songs.