Secret Desire (1985)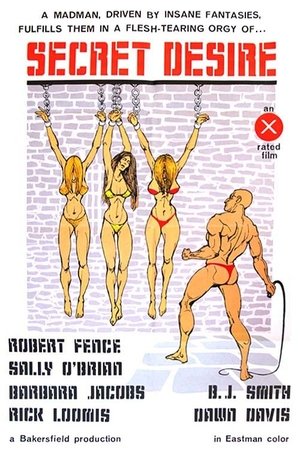 Secret Desire
Overview
A daughter is beaten and violated by a father (who looks like her kid brother), along with the maid, and others. When we last see the father, bound in a fake strait jacket, his hair has mysteriously turned brown, from gray.
Also known as: Le secret d'Elise, Elise's Secret
Description: Dress shop owner Uschi Karnat sets up her customers and other women she meets so that they get into situations where her lover can rape and bugger them in isolated places, he being deprived of anal sex with Uschi. She watches these events in disguise. The first victim we see is her doctor, Ursula Mann, whom she had consulted about whether she would manage anal sex. Then customer Britta Stine is assaulted on her way from buying a dress and having a lesbian session with Uschi. "Monique" seems to be a jealous lesbian lover of Uschi Karnat's. She visits and they fight, but Chrsitophe comes in and grabs Monique and the lube is applied yet again. However, the doctor's lover is following Uschi around and when they have ascertained what is going on they come round, acompanied by Eric Peyrolle, and give Uschi her comeuppance while the doctor watches. Finally we see Christophe have anal sex with Uschi.