Schoolgirl Report Part 2 – What Keeps Parents Awake At Night (1971)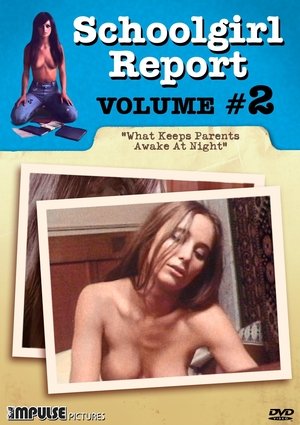 Schoolgirl Report Part 2: What Keeps Parents Awake at Night
Der neue Schulmädchen-Report 2. Teil: Was Eltern den Schlaf raubt
Overview
After the big success of the first part the film-makers apparently felt pressured to launch a new "investigation" and gather new material. Therefore, Friedrich von Thun again ventures out into the streets, this time of Berlin, to ask schoolgirls about their sexual experiences. The invinted guests talk about (allegedly) true events. Schoolgirls that seduce their teachers, runaway girls that have been robbed and who have to prostitute themselves or innocent girls that have been drugged and raped...
Cast

Friedrich von Thun
Rena Bergen
Karin Götz
Heidi Hansen
Willy Harlander

Helga Wild
Also known as: Der neue Schulmädchenreport, Der neue Schulmädchenreport 2. Teil – Was Eltern den Schlaf raubt, Der neue Schulmädchenreport 2.Teil – Was Eltern den Schlaf raubt, Further Confessions of a Sixth Form Girl, Raportti koulutytöistä, Rapport om skolflickorna, Reportage gyro apo tis mathitries No 2, Schoolgirl Report Part 2: What Keeps Parents Awake at Night, Schoolgirls' Report – Why Parents Lose Their Sleep, Thranio No 2: Etsi mathame ton erota
A strict, conservative teacher is lured by three of his beautiful, nubile young female students into a compromising situation.
After the big success of the first part, the film-makers apparently felt pressured to launch a new "investigation" and gather new material. Therefore, Friedrich von Thun again ventures out into the streets, this time of Berlin, to ask schoolgirls about their sexual experiences. The invited guests talk about (allegedly) true events. Schoolgirls that seduce their teachers, runaway girls that have been robbed and who have to prostitute themselves or innocent girls that have been drugged and raped…