Resurrection Of Eve (1973)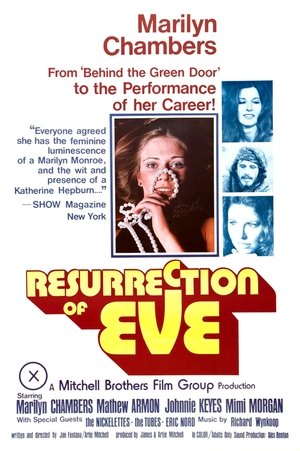 Resurrection of Eve
Overview
Eve is stuck in an abusive relationship with her lover, Frank, but after attending a few swing parties, she begins to lose her inhibitions in more ways than one.
Cast
Marilyn Chambers

Johnnie Keyes
Mimi Morgan

Kandi Johnson
Tyler Reynolds

Mark Ellinger
Jon Martin

Tom Berenger

Rick Cassidy
Crew
Artie Mitchell
Artie Mitchell
Artie Mitchell
Also known as: Mitchell Brothers Resurrection of Eve
Description: Resurrection of Eve is the tale of Frank and Eve Paradise, who discover that it takes a lot more than physical attraction to make a relationship work. Their conflict stems from Frank's unrealistic jealousy which so upsets Eve that she becomes involved in a car accident. When Eve is "resurrected" as a beauty following plastic surgery, she and Frank make amends and are soon married. However, their nuptial bliss is hampered by Frank's reluctance to give up his pre-monogamous life-style. Thinking he is missing out on a lot of action, Frank persuades the hesitant Eve to attend group orgies with him. Although disgusted in the beginning, Eve soon learns to enjoy them, much to Frank's dismay.