Girl from S.E.X. (1982)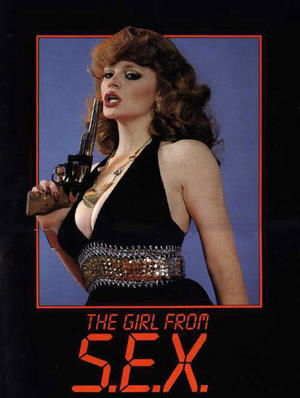 Girl from S.E.X.
Overview
Lisa De Leeuw is Agent 38 DD in this James Bond-inspired spy spoof.
Cast
Lisa De Leeuw
Mike Horner

Bridgette Monet
Nicole Black
Holly Page
Billy Dee

Blake Palmer

Brooke West

William Margold
Kevin James
John Stagliano
Eileen Wells
Annette Haven

Tara Aire
Luscious Lisa DeLeeuw stars as Agent 38DD in this explosive spy spoof. She's every bit the sexual adventurer that James Bond is, but spends even more time between the sheets! She risks danger, escapes assassination attempts and utilizes her most potent weapons to get her man — Namely her stunningly breasty body and her equally talented tongue. She's on the trail of some dastardly counterfeiters who are led by a certain Mr. Big — and they don't call him that because of his powerful connections! Lisa gets down and dirty in a quartet of white-hot couplings as she works her way toward Mr. Big. You've never seen a spy flick quite like this, and you've never seen a spy quite as sexy as Lisa DeLeeuw.