Any and Every Which Way (2010)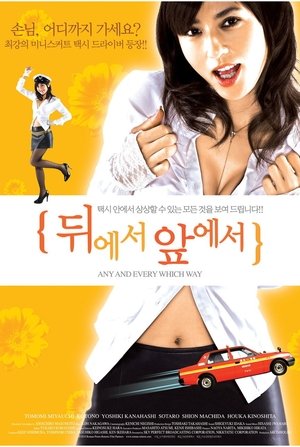 Any And Every Which Way
後ろから前から
Overview
Sexy Momoko turns tricks in her taxi to boost business, until she's finally discovered by her employer. Running from the authorities, Momoko abandons her cab to begin life as a fugitive, accompanied by her most recent customer.
Cast

Houka Kinoshita

Kotono
Also known as:   Ushiro kara mae kara
Description: Momoko is a taxi driver with a bad sales record. She and her co-worker Ranko try to project their sexual attractions to gain customers. Male passengers surge into their taxis to get their special services. They improve business performance rapidly, but soon their company finds out about their illegal escapades and they both end up getting fired. Momoko is being chased by the police for prostitution, and escapes by her taxi. Meanwhile, she picks up her last customer, Ishida. Momoko and Ishida dump the taxi – which is out of gas – and continue their trip. Momoko and Ishida start falling in love and, naturally, they make love. However, they don't know each other's shocking pasts.