Female Ninja Magic 100 Trampled Flowers (1974)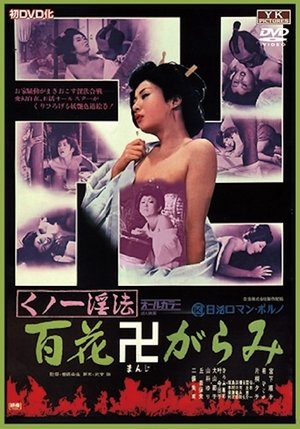 Female Ninja Magic: 100 Trampled Flowers
くノ一淫法 百花卍がらみ
Overview
In historical times, the Shogun family employs a group of Iga ninjas to take over the Akizuki clan's lands. The Akizuki hire the Fumi ninjas, a group of female warriors who enhance their fighting ability with sexual magic such as the "white snake spell". When the Akizuki emerge victorious, Tsukinojo, the leader of the Fumi ninjas, marries Lord Akizuki.
Cast

Junko Miyashita

Hitomi Kozue
Yūko Katagiri
Yuri Yamashina
Hyōe Enoki

Hiromi Maya
Naomi Oka

Nagatoshi Sakamoto
Hajime Tanimoto
Crew
Chūsei Sone
Hajime Kaburagi
Masaru Mori
Also known as: Kunoichi ninpo: hyakka manji-garami
Description: This action-packed softcore melodrama concerns a group of female ninjas who use sexual magic along with their considerable fighting skills to protect their province from takeover by a ruthless shogun and his band of fighters.